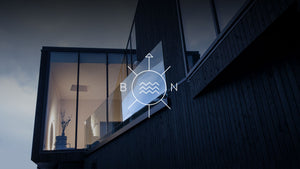 Baltique Noir
Baltique Noir is a collaboration between the architecture and design studio Martensen Hamburg and Bazar Noir. 
Located on the blustery northern coast of Germany and nestled in between windswept trees and grasses, the Baltique Noir project features unbeatable sea views, dramatic architectural angles, a minimal but striking colour scheme. The building is constructed from robust materials perfectly suited to the harsh climate an eye-catching structure which proves that less is without a doubt more. 

After creating a series of design objects for BAZAR NOIR Editions - the K200 armchair and the s359c daybed - the partnership enters the next level, offering a holistic living experience. The house is located in a small picturesque village on the northern coast of Germany and perfectly situated between nature reserve Geltinger Birk and the iconic lighthouse of Falsthöft. Impressive floor to ceiling windows offer breathtaking views of the baltic sea and the nearby danish south coast, obstructed only by a flock of sheep grazing right in front of the property.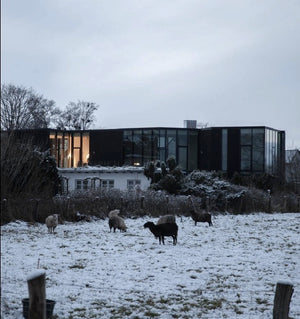 The design of the interior underlines the serene mood of the scenery. The color palette reflects both the strong architecture and its natural surroundings with a mix of natural tones and black accents. The choice of material ranges from raw linen and wool, to delicate walnut and brass surfaces, to bold objects made of marble and metal creating a cosy yet subtly luxurious atmosphere. Bended steel tubes reoccur throughout the entire space and add to the overall sleek and graphic expression, contrasted by hand-made pottery and art objects created especially for this unique curation. 
The property is a two-level, 106 square meters, with two terraces it is located in the idyllic town of Falshöft, right on the coast of the Baltic Sea. Situated in the first row of the shoreline properties, in between the Geltinger Birk nature reserve and the iconic lighthouse of Falsthöft.
To take advantage of the unique location, the building composed of 4 apartments, was designed with the greatest possible transparency, including 3.5 meter high ceilings, large-format, floor to ceiling windows with minimal framing, and open-plan rooms which provide both a generous sense of space and phenomenal views of the water. The building offers nevertheless privacy and seclusion for residents thanks to the generous depth of the rooms that create sheltered and other private areas throughout the house. A large area of land is left untouched - inaccessible to the public- directly in front of the house, where only a flock of sheep grazing interrupt the views to the ocean.