House Into the Woods
The interior design of the House Into the Woods, is a collaboration between the Polish based design studio Jan Garncarek, & Ewelina Mąkosa and Bazar Noir. After collaborating on a series of lighting fixtures for BAZAR NOIR Editions - the Metropolis Lamp and the Sconce Series - the partnership led to an interior project. A black construction situated in the Opole region, secluded by the hectic city life of Krakow, it found haven in the Silesia woods. A private and peaceful oasis within the bustle of the urban life.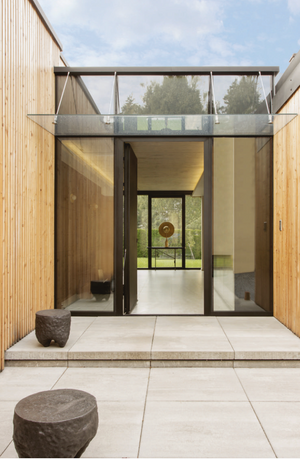 The inner part of the house is strongly connected with the nature that surrounds it - thanks to its multiple and long windows- nature becomes part of the indoor scenery. 
The simplicity of the architecture appeared to be the perfect stage for the exquisite collectible design pieces. Carefully selected objects matching the warm colour palette of the landscape surroundings, gives an individual style to the modern interior architecture of the house. This is a place where each and every item matters and plays a role within its contemporary context.