Studio 3.8 x Bazar Noir
This interior project led us to a magical surrounding, a waterfront studio space situated on the Spree river, tucked amidst nature and offering stunning views across the water.
Studio 3.8 is a conceptual space on the Spree riverside, located in Berlin Rummelsburg with close proximity to the city centre. The space is embedded in a pioneering development project, where artists, designers, entrepreneurs and creators of different backgrounds are shaping a much anticipated creative community. The studio hosts selected meetings and gatherings in the broad context of inspirational encounters and creative exchange.
The studio is designed as an open-space with a mezzanine floor and a generous lounge area, panoramic windows towards the water and a waterfront terrace.
Bazar Noir was approached to create an atmosphere which would fit its surrounding while bringing another strong touch to the interior concept of the studio.  The interior features dark wooden floors and wall panels, high-ceilings and a lightweight structure, creating a pleasant balance between modernity and warmth.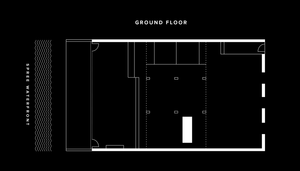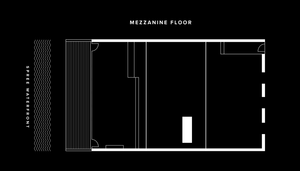 The challenge was to keep the scenery as lead role while bringing an easeful mood to the large open-space. Another major guideline was to maintain a certain flexibility through the selected pieces, as the interior's setup is constantly being re-conceived according to the projects taking place. It was evident that we had to play and adjust our concept in accordance to these preexisting features. We focused on the lounge/seating area, situated on the studio's lower floor, featuring a fireplace and offering a breathtaking view of the Berlin Spree.
The design is strongly based on a series of glass materials, to avoid obstructing the scenery from the large bay windows. In order to bring a strong accent to the interior we opted for various marble elements which are used as a reminiscence touch by their graphic shapes. The color code fits with the natural surroundings through the changing seasons, thanks to the use of muted tones mixed with bold mahogany wood and some dark pieces of furniture which reflect the Bazar Noir DNA.
For all inquiries please get in touch via sayhello@bazar-noir.com